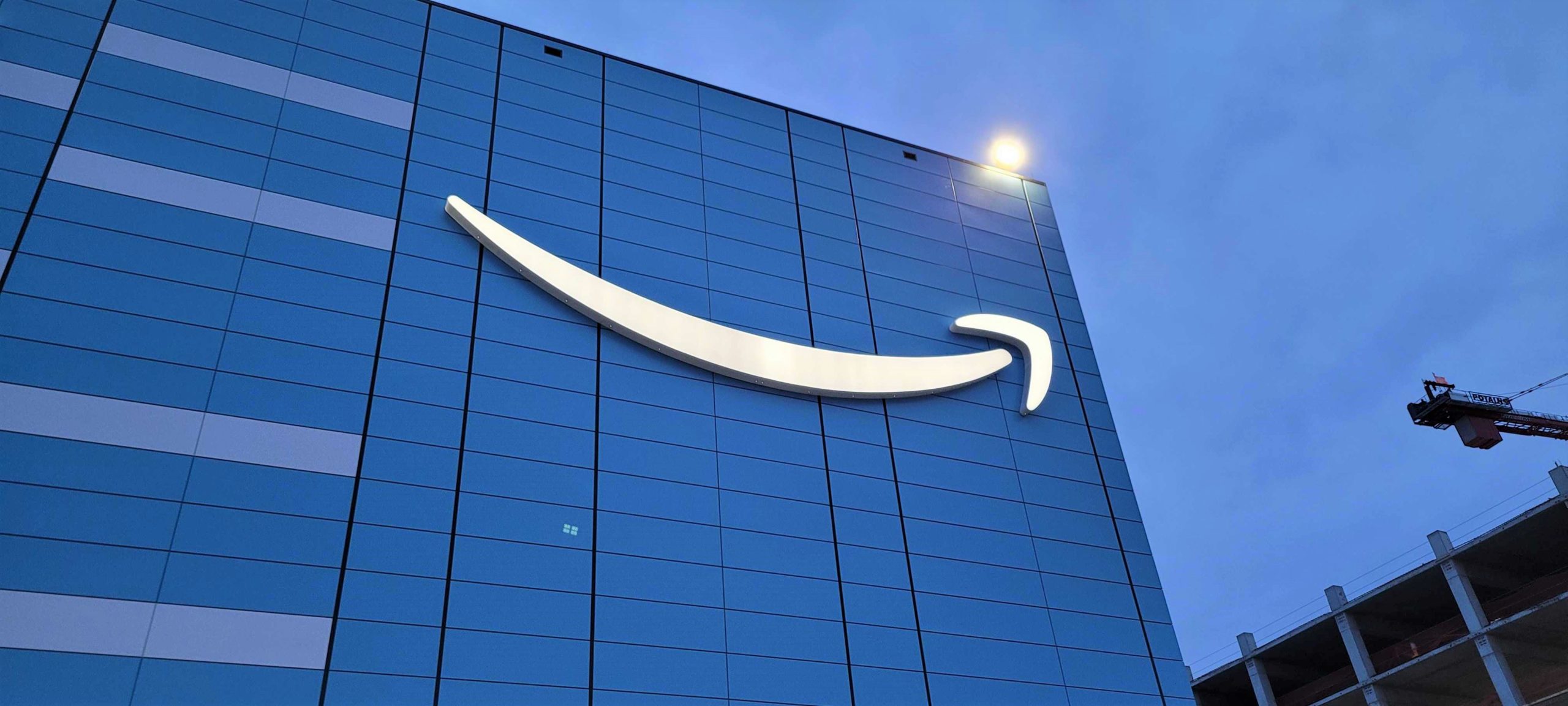 Carl and Twyla Heinlein, the owners of Cincinnati Custom Signs, located in Cincinnati, OH., sent in a recently completed project for Amazon.
This was the signage of the Amazon Smile Logo – a 54' wide 12' tall Lit flex face sign with complete dual LED lighting systems. This was installed 70' in the air on the new Amazon distribution center at the CVG airport.  Carl said that this project is as big as we have! He then stated, "We also did the interior signage for all 8 buildings along with the 7-floor parking garage. Just under 2,000 signs in total."
How long did it take to complete?
Working with a large construction company takes a long time. Contract signing (394-page contract), Approval of design drawings, Samples, and spec of every material used on the sign, crane plan with load calculations, and logistics of the actual installation. From the signing of the contract to installation, it took 5 months for this 1 sign.
Did this lead to any more projects?
We are just at the end of the projects that came from this one, but many other smaller projects were completed for this construction company (Whiting-Turner Construction) prior to this one.
How did Amazon find you?
We are working for Whiting-Turner Construction. They are the general contractors for this project. We started out making construction signs for them 5 years ago and kept growing our relationship with them and here we are now.
Did you face any obstacles that you had to overcome to complete the project?
Many! The sign wasn't fabricated to specs, the lighting was also not to specs and the administrative work was over the top complicated and time-consuming. The installation took twice as long as it was supposed to due to the fabrication. But at least it looks good!
The overall project had way too many issues to list. Delays from other subs, bad architectural drawings, change orders due to preference, sudden deadlines, delayed payments and the list goes on and on, but we would do it again.
The total value of this specific sign was $59,000. 
The value of the project in total was $443,000 and climbing with all kinds of changes in the orders!