Are you in the market for a new car? Audi Downtown L.A. at 1900 South Figueroa Street offers plenty of new, pre-owned, and for-lease vehicles. When this dealership decided to undertake some remodeling, the management team contacted Superior Signs and Graphics to discuss the design, fabrication, and installation of mesh banners in downtown L.A.
Mesh Banner Messages Alert Customers That the Dealership is Open for Business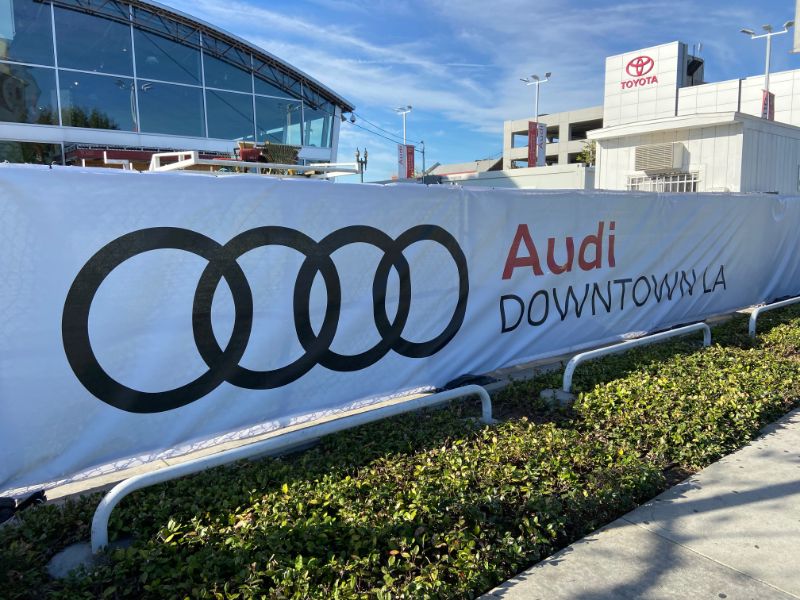 It would be easy for the sounds of a construction site to scare off prospective customers. Therefore, the dealership's management decided to announce that it is open for business. At the same time, the team wanted to mask the mess that is a regular part of renovations.
We suggested the use of mesh banners because these products allow wind to pass through them while shielding the construction site from view. Therefore, they would remain in place even as Los Angeles still experiences some wintry, windy days.
With the client's approval, we fabricated four separate sections. One measures 95 feet in width, another 25 feet, and the final two are ten feet each. Our technicians imprinted the material with the messages that Audi wanted its customers to see. They point toward the sales office trailer, the parts department, and they highlight that the dealership is, indeed, open.
How Construction Fences Boost Branding and Advertising for a Business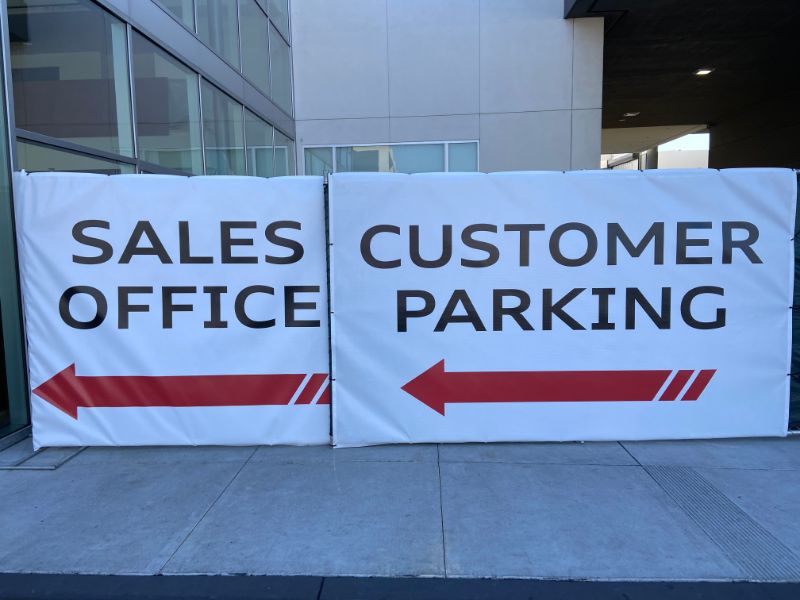 Renovations are inevitable. The majority of businesses remain open while their structures undergo demolition, rebuilding, and build-outs. However, the look of an active construction site could scare away some customers. As a result, it is essential to advertise that you are open and offer information on products or services you have.
Of course, property owners also commission these types of fence banners. After all, they will explain to the public what companies will be opening up soon. Therefore, they can get a buzz going in the business community as well as among consumers. Typically, property management companies, developers, and chambers of commerce favor these construction fence banners.
Should You Choose Solid Vinyl or Mesh Banners in Los Angeles CA?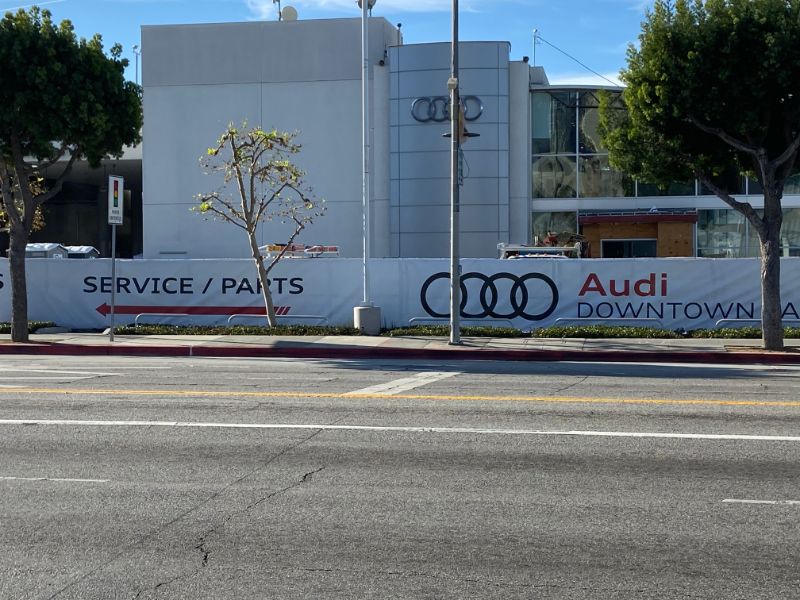 Both the solid vinyl banner and mesh banner are ideally suited for advertising and branding purposes. Moreover, we use high-quality materials and inks for fabrication. Besides that, both kinds of banners are budget-friendly. That said, there are some reasons to select mesh over solid vinyl.
Mesh is a continuous surface with built-in tiny holes. It is an excellent option for any time that you need a one-sided banner. Because wind passes through the holes, they do not rip. Similarly, there is no need to cut out wind holes, which can mar the overall appearance of a good-looking banner product.
As a result, mesh banners are ideal for use in between fence posts, trees, and across streets. You might hang them between buildings or from balconies. While standard vinyl banners in these settings could rip or wrinkle, mesh banners continue to look like new.
Learn more about your options today by connecting with Superior Signs and Graphics. Our team serves the business communities in and around Los Angeles and Orange counties. Call now!