Orange Lutheran High School is a frequent client of Superior Signs and Graphics. In the past, we fabricated and installed vertical pillar banners, new wall graphics, and gymnasium wall graphics for the venue. This time, the admission office contacted our sign shop to discuss a wall wrap and lobby logo in Orange.
Putting Our New CNC Router to Work and Creating Impressive Signage Elements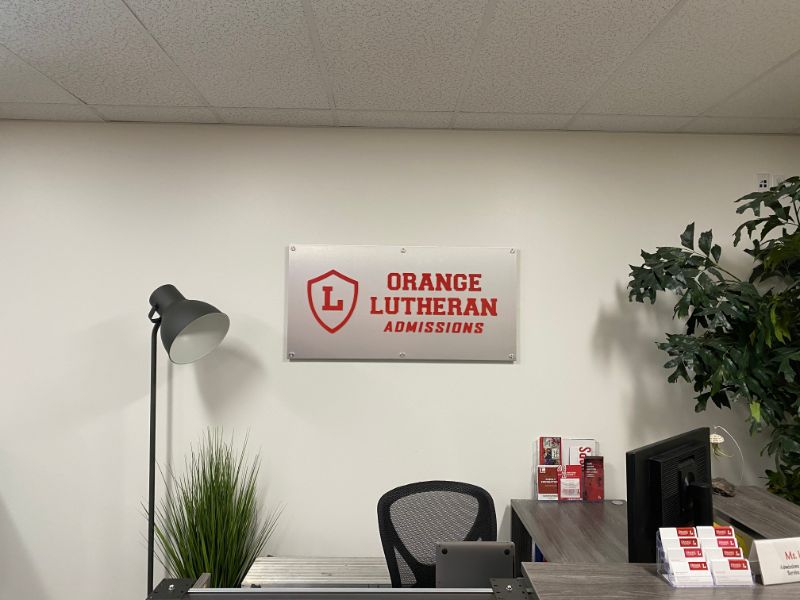 Our sign shop recently invested in the new technology to offer clients speedier returns of their signage products. Moreover, we liked the idea of having more quality control. With the help of the new CNC router, our team was able to create a couple of impressive signage solutions for this client's current need.
The first one features a brushed aluminum panel that displays quarter-inch-thick acrylic letters and logo elements. We painted them in the school's red color and mounted the sign with wall standoffs. At the target location, there was an unused power outlet that we were able to cover up in the process.
Next, we worked on the wall wrap. It required careful measuring since we had to cut the vinyl to fit around countertops and drawers. Moreover, we had to factor in these cutouts during the design process. Doing so ensured that the lettering is featured entirely above the tabletops without looking too large or small.
Creating a New Atmosphere in an Office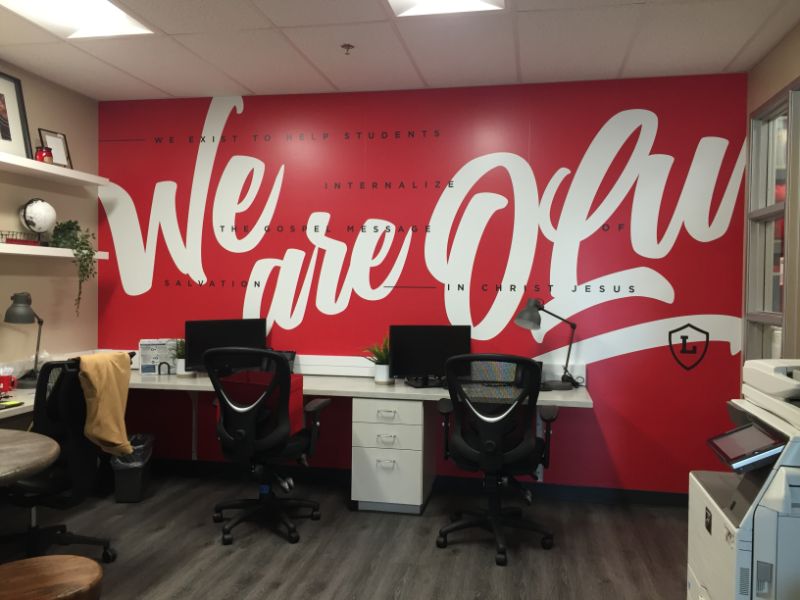 When you compare the office space before and after the signage additions, it is clear that these products make a significant difference in the overall atmosphere of the location. Besides that, they assist with a successful branding campaign in the business. You can harness the power of these types of signage products for your office, retail establishment, or restaurant as well.
For starters, our team will work with you to identify the walls that are ideally suited for covering. Next, we assist you with the design of the style elements. Although some clients approach us with a set of graphics and lettering that an advertising firm has put together, the vast majority does not have specs on hand.
In the first case, we use the specs you have and might resize them slightly to fit into your chosen locations. In the latter case, our graphic artist will work with you on the look of signage that could have a significant impact on your site.
Is it Time to Order a Wall Wrap and Lobby Logo in Orange, CA?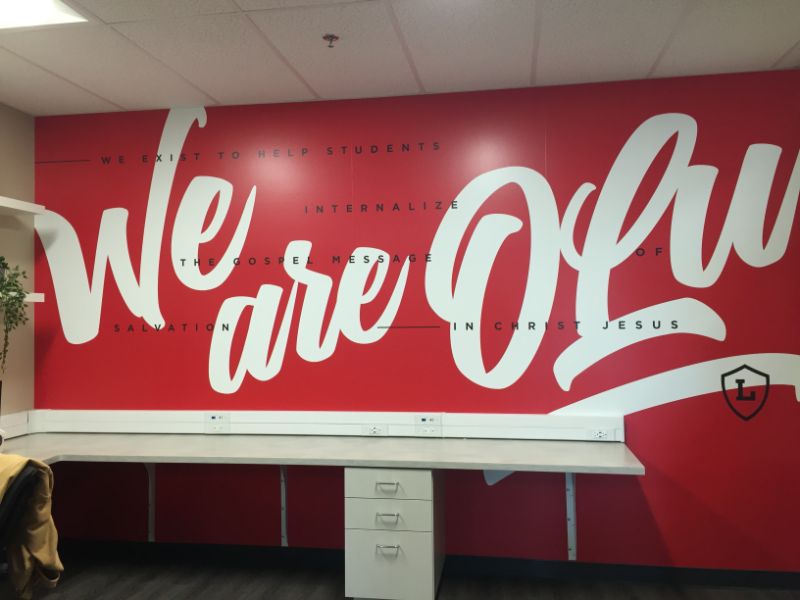 Look around your office, store, or restaurant. Do you like what you see? On the other hand, are you wondering if there was a way to improve the atmosphere in your setting? When you are not sure that you are branding your company to its fullest potential within your environment, our team wants to help.
We serve the business communities in and around Orange County as well as Los Angeles County. We gladly visit your location for a site survey. At that time, we can take measurements and make suggestions for the design of lobby signs, wall graphics, or something else altogether. Contact us today to get the ball rolling!