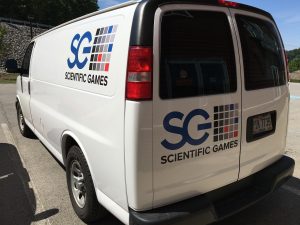 We completed vinyl graphic installations on eight fleet vehicles as part of a re-branding effort for Scientific Games, the leading innovator in the global lottery and casino industry. Spark Signs was called to install the new branding on a series of vehicles from Ohio, West Virginia and the Pittsburgh area.
As can be seen in the adjoining images, several different vehicle brands were part of the project. In some cases, we needed to remove large wraps in order to then apply the re-branding graphics to the vehicles.
Scientific Games is the industry's only full-service provider offering diverse products, technology, and services that can be customized to meet the unique requirements of virtually any lottery or gaming entity. This includes instant games, lottery systems, retail technology, gaming terminals, marketing research and Internet, Mobile and Social gaming.
Eight (8) vans were part of this project. To start, we worked closely with the lead service provider to ensure that we had the correct files – there were multiple vehicle models and thus different sizes and placement of graphics. We put a high level of detail into cross-referencing files and communicating to make sure we had the proper files for each vehicle. Next, we printed the graphics on a high-quality 3M vinyl product, IJ35C, and added a gloss laminate to maximize the vibrancy of the artwork and to lengthen its lifespan. Finally, we worked closely with regional managers at Scientific Games to schedule the installation of these graphics at a convenient time that matched the drivers' schedules.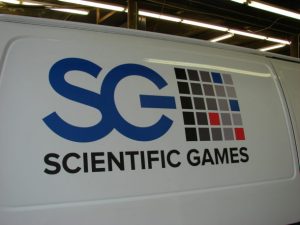 Jim D. mentioned, "We had multiple service vehicles driving in from different states. The team at Spark Signs was thorough and made it easy for us to schedule the rebranding installations with minimal downtime for our drivers. And the vehicles look great!!"
If you are looking for a company to brand your car, SUV, van, box truck, or semi, and want the process to run smoothly and the graphics to look great, contact Spark Signs & Graphics. We will tackle small to large projects and anything in between, including design, graphics production, and installation. We also specialize in outdoor and indoor signs and trade show displays. Call us at 724-510-0677, check us out at www.sparksigns.com, or visit our showroom in the North Hills of Pittsburgh.
Written by: Sparks Signs & Graphics – Pittsburgh, PA