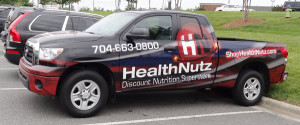 Are you searching for vehicle wraps or vehicle graphics in Renton, WA?
Vehicle graphics are a great way to market your company vehicles.  At Shine On Signs and Graphics we design and fabricate custom graphics for any company car, van or truck. Whether you have a company car that needs vehicle wrap or your personal truck needs a new look, give us a call. We can customize vehicle wraps for any make and model.
Maybe you have a whole fleet of cars that needs uniform look. We can custom design vehicle wraps that give all your vehicles the same branding. We can customize your service van and company car to look similar and display the same information and to make your vehicle graphics identical.
Vehicle wraps can be seen by hundreds if not thousands of people a day and  have become a very popular cost-effective way to advertise your business. The public's eyes can now see your company brand, logo and business contact information all at the same time.
Adding a vehicle wrap to your company car is a great way to save on cost per impression. It's a good cost-effective way to get a lot of people to notice your brand while on the road. . The more people see your custom vehicle graphics, the more chance to market new customers.
Custom vehicle wraps are one of the best ways to advertise your business while making service calls. Do your company vehicles visit clients in residential neighborhoods? Now you can market your product or service to neighbors of your customers. Neighbors often trust services that other people in their community use and will ask about your results. Vehicle graphics are great way to grab someone's attention so that they might ask about your products or services.
Our vehicle wraps are custom to your needs, we can include contact information, logo and services provided on your vehicle wrap. Where your vehicle goes, so will your company's brand. Now you can find leads on the go and take your company mobile.
Longer-lasting materials can keep your vehicle wrap from chipping or coming off. Now vehicle wraps can last longer and be counted on to generate leads while marketing your brand on the go. Having vehicle graphics on your company car will help make sure that your brand and information is clearly seen by people on the road.
At Shine On Signs and Graphics, we're a full service custom sign and graphic design company located in Renton, Washington,  and we serve the entire King County area.
If you have any questions, give us a call today at (253) 243-7777
Written by: Shine On Signs and Graphics – Renton, WA