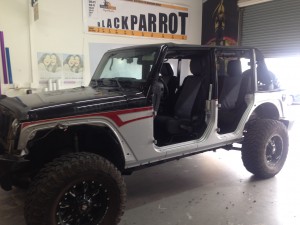 Project: Full Vehicle Wrap
Location: Tustin, CA
Client: Rampage Off Road
Recently we were contacted by Rampage Off Road, located in Tustin, California, to wrap one of their vehicles for an upcoming show. We were excited that we were going to be installing a wrap on their Jeep Wrangler, because we also use a Jeep as one of our own fleet vehicles and know the success we've had with prospective clients contacting us after they've seen the graphics on our Jeep.
In the images, you can see that the Jeep came to us with very minimal graphics already painted on. We first had the vehicle stripped to allow access to each part individually and then we went to work applying the sleek new vinyl color in a dark matte finish. The after pictures show a beautiful Jeep Wrangler that is fully loaded and ready for the upcoming show.
Rampage Off Road provides their customers with the best quality products for Jeeps and other types of trucks and SUVs. They are a company comprised of automotive enthusiasts that are committed to excellent customer service. You can find a number of different accessories for your vehicle, whether you're looking for products for the interior or exterior.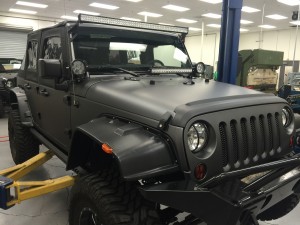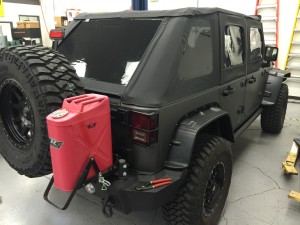 Because the wrap for this particular project was just one solid color, we stripped the doors before beginning so that we were able to lay the vinyl onto each part separately. Since there were no graphics on the wrap, it was even more important to be sure that there was no creasing or air bubbles and that the vinyl was stretched and trimmed as it was applied to ensure a perfectly even application. We did everything right in house so that we had all of the correct products and tools readily available to us.
Vehicle graphics are one of the best forms of advertising you can invest in on for your business. Even if you aren't interested in a full vehicle wrap, you can dress up your company vehicle with graphics that will take the work out of advertising, and you won't have to do much. Simply sitting in traffic at a stop light, or driving your normal route on a daily basis will drive brand recognition like you wouldn't believe! By using vehicle graphics for advertising, no matter where your business is located, you can potentially attract a huge number of potential customers and clients that don't normally pass by your door.
We know how much work goes into running a business without worrying about how you're going to get as many people in the door as possible. By investing in a full vehicle wrap or graphics for your company car, your vehicle will do the work for yo, while you simply go about your commute every day as you normally do. We will be happy to give you an information packet at our Tustin, California location and highlight all of the benefits that come with our vehicle wraps. Come visit our showroom or just give us a call at (714) 258-7794 and see what makes us a cut above the rest!
Written by: Black Parrot Sign Studio