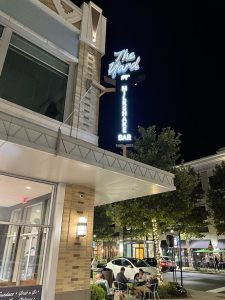 Coby Loessberg, the owner of Legendary Custom Signs & Graphics, located in Manassas, VA., sent in a recently completed project for The Yard Milkshake Bar.
The Yard is a relatively new franchise company. The new franchisee in Ashburn had leased a corner unit in One Loudoun, Loudoun County Virginia's Top Destination for Shopping, Dining & Entertainment and the property management company was supporting the franchisee with financial incentives to install a large illuminated projecting sign from the corner of the building.
The biggest challenge with the project was the engineering required to determine a feasible method of installing such a large sign on a brick veneer building façade. A very creative and ingenious sign engineer looked over the building plans and determined that a couple of steel outriggers that were welded to the main corner building column, and were used as backup/additional support for a large overhang/canopy, would also support the weight of the sign. We backed that up by commissioning the original building engineer to validate the loads.
Once that was accomplished, the next biggest challenge was to take precise measurements for the shop drawings to provide to our Signworld preferred partner UFB Fabrication, who did an amazing job of fabricating what is now a landmark sign in a landmark shopping center.
The final challenge was learning how hard it is to drill holes in structural steel! The Franchisee and the property management company were thrilled with the results. The sign is an LED cabinet with marquee style channel letters and push-through acrylic letters.
Key facts:
Sign Height – overall: 17ft 9in
Sign Width: 5ft 3in
Sign Weight: Approx. 750 lbs
The Installation took 1.5 hours to get in position with a crane and 6 hours to drill 8 holes in 1/2" structural steel plates.
The value of this project was $35,831.