Mark and Wendi Miller, the owners of  Resource 4 Signs, located in Chatsworth, CA., recently completed a monument sign project for Nestle Purina outside of Bakersfield, CA.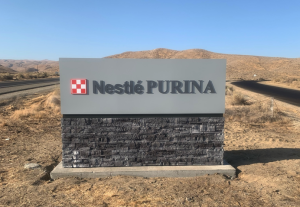 This sign identifies the entrance to the Nestle Purina facility that produces all of the kitty litter that their brands sell west of the Mississippi River. Visitors to the facility were constantly getting lost on their way to the facility. The mapping programs were incorrect when their address was entered. Therefore, they needed a sign to indicate the exit from the two lane highway onto a small feeder road that leads to the main building at the facility.
"Resource 4 Signs designed, permitted, built and installed the sign completely in-house. The challenge to this project was that the sign is not located on land owned by Nestle Purina, nor does it have an actual address. When it came to permitting, this presented a significant challenge. After 6 months of back and forth with Kern County, we were finally able to secure the permit. In addition, due to the pandemic, the stone the customer had chosen was back ordered. However, with significant help from the stone manufacturer, we were able to source the stone from a variety of locations and get it shipped to us.
The sign frame is made of aluminum supports and aluminum sheeting with a structure to accept two (2) 2 ½" steel pipes, with 9"x9" steel base plates for mounting. These pipes run through the interior sign structure for mounting. The sign is attached to the concrete footing with eight (8) bolts that are set into the footing and line up with the mounting holes in the steel base plates.
Once we attached the steel pipes to the footing, we lifted the stone base of the sign onto the pipes and attached them to the sign. We then lifted the top of the sign, with the reveal, onto the pipes and attached the top to both the pipes and the base. The installation took a total of 2 days; 1 day to dig the footing, set the rebar and get the footing inspection. The second day was spent installing the sign and completing the final inspection."
The project cost $30,000.
Now their customers can find the way in and out and not get lost!