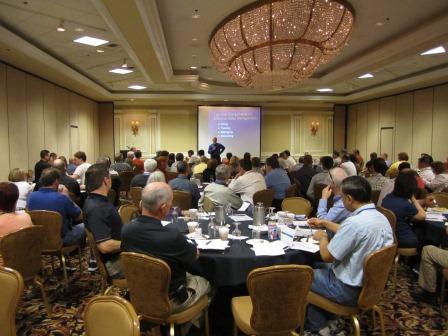 Signworld recently held its Annual Convention and Tradeshow in late April at the Golden Nugget Hotel in Downtown Las Vegas, the site of some of Las Vegas's oldest signs.  The successful private event which is hosted for Signworld Owners from all over North America was attended by over 200 Signworld Owners and their employees making it the largest attended event in Signworld's 24 year history.
The annual convention and tradeshow put on by Signworld provided free upgrade training for each owner and their employees as well as complimentary meals during their stay.  Ken Kindt says of the event, "We pride ourselves in being able to provide an annual event that includes all of the amenities that we offer.  There are not too many franchise/business opportunity organizations out there that are willing to offer free upgrade training and complimentary meals throughout the event.  Our goal each year is to make the event better each year, while still maintaining the ability to make it virtually free to the individual outside of their travel expense."
The Convention consisted of 30+ seminars, panel discussions and roundtable discussions aimed at teaching those in attendance new techniques to run their business more efficiently and more profitably, new products that are available to them and the marketing opportunities with those products as well as industry trends.  Signworld also offered a full schedule of events for sign-makers (employees of Signworld locations) where they were able to learn new vehicle wrap techniques and design tips, color management and new ways to maximize their current equipment.
The tradeshow portion of the convention continued on the same path of growth that it has experienced over the past few years growing from 38 vendors displaying their goods at the 2011 event, to 50 vendors displaying their goods at the 2012 event.  Trish Tratos of Spot-On Signs said of the convention portion, "It was really great to meet the reps that we have been talking to on the phone or have emailed in the past.  The variety of exhibitors in attendance was amazing and it really opened our eyes to the possibilities of growth in the sign industry.  It's easy to get in a rut and use the same vendors over and over if you are not careful, so this event really recharged us on getting more involved with other vendors that may offer better pricing or products.  Signworld did a great job of putting the event together and we look forward to taking what we learned at the convention and implementing it into our business."
Contact Us learn more about how you can become a Signworld Owner and take advantage of the free upgrade training provided by Signworld