PTM Tarps does business at 7801 Somerset Boulevard. A thought leader in its niche since 1979, the company sells canopies, tents, specialty tarps, and various event shelters with accessories. When the company bought a new vehicle for its fleet, the management team contacted Superior Signs and Graphics to discuss the design, fabrication, and installation of a box truck wrap in Paramount.
From a Plain White Truck to a Marketing and Branding Powerhouse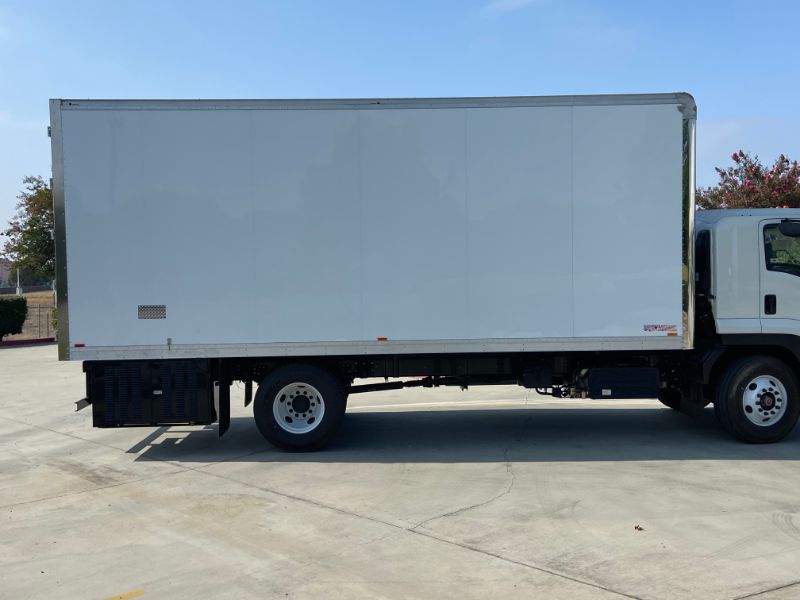 Our graphic designer worked with the management team to select the graphics the business wanted to see on the vehicle's sides. These included a canopy covering two cars, which is one of the shop's bestselling products. However, our specialist suggested shifting the wrap's focus on the current trend of outdoor dining.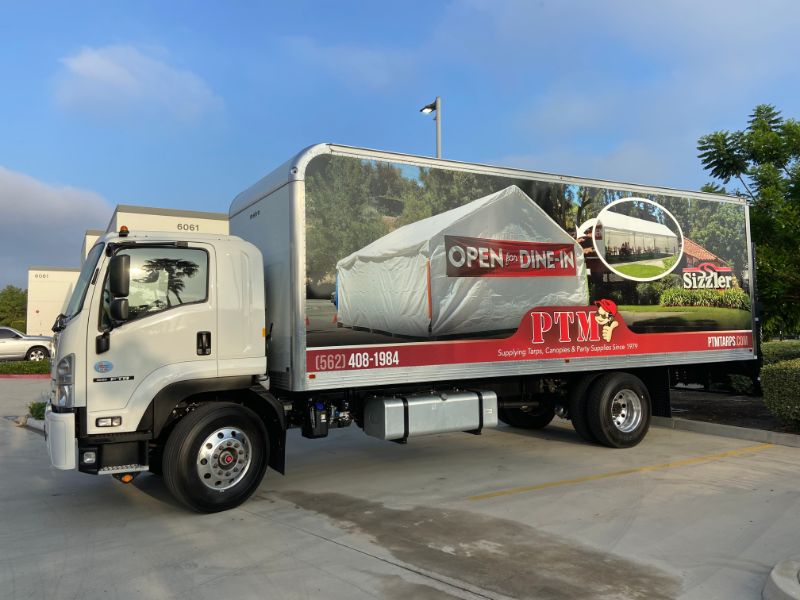 Since COVID-19 restrictions require all California restaurants to shift to al fresco dining versus dine-in service, many eateries are scrambling to find canopies to cover diners from the SoCal sunshine. The team loved the idea and went with our suggestion instead of its original plan.
Therefore, our technicians worked on the design of an "Open for Dine-In" event canopy wrap. Using a high-resolution image, it was possible to juxtapose a graphic looking into the interior of the event tent. By cobranding with a popular local restaurant, the design communicates the advantages of this product for the hospitality industry.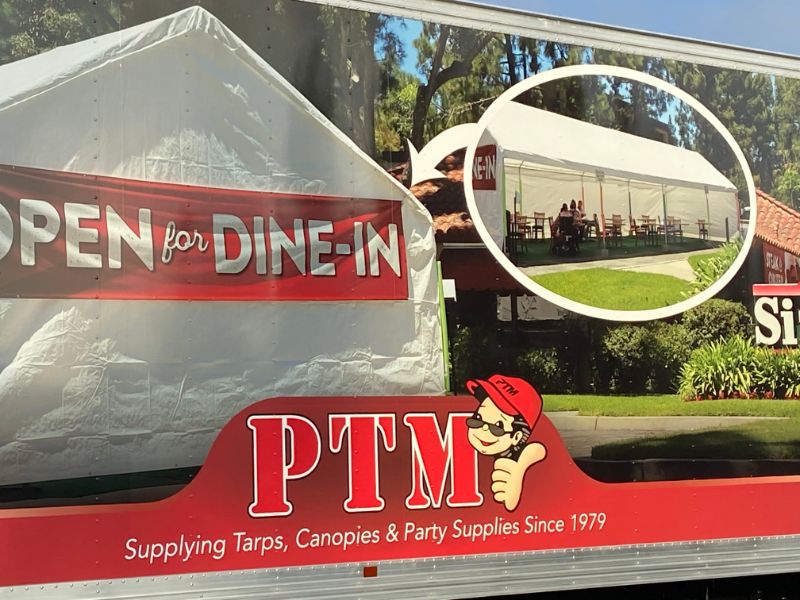 The sides of the wrap also feature the corporate logo, name, color play, and contact information. Now, when the truck is out making deliveries or picking up supplies, it advertises the products of PTM Tarps while also giving the nod to its brand message.
Feature an Advertising Message with a Full Wrap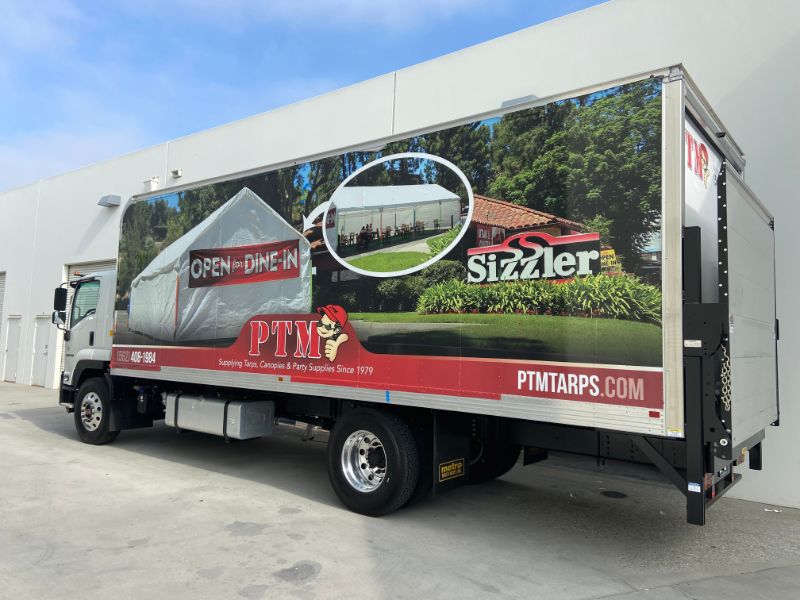 It is fair to say that the full wrap is the most advantageous vehicle graphics product when treating a truck. It capitalizes on its large sides and back. Besides that, it allows for the larger-than-life display of images that you might typically only see in compressed versions when looking at a car.
Some business owners are reluctant to commission full wraps. This is usually because their vehicles feature numerous rivets. However, did you know that our technicians have earned the 3M Preferred Installer designation? It means that they understand how to select the right vinyl for the job, conform the material around rivets, and have the entire product look extraordinary.
Buy a Box Truck Wrap in Paramount, CA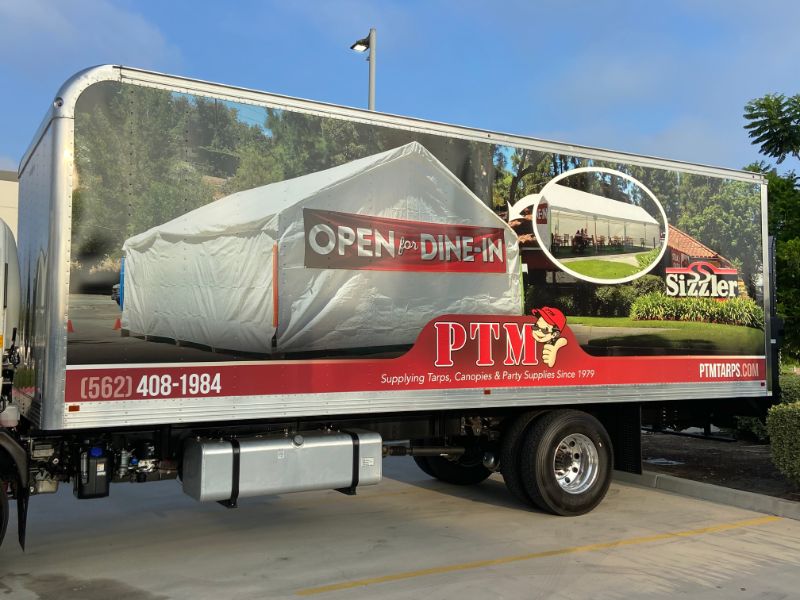 Do not leave your wrap's excellent design and installation to chance. Superior Signs and Graphics can assist your company with all aspects of the project. We can work with images you already have or select the ones that would look fantastic on the sides of your truck. Similarly, we ensure a perfect color match with your corporate signage, which allows for effective brand building and the development of name recognition in your service territory.
Of course, we do not just work with box trucks. Rather, we also wrap all other types of trucks, cars, and vans. We even design, produce, and install wraps for boats, planes, golf carts, model planes, and pretty much anything else you can push, drag, or drive onto the lot. Call us today at (714) 793-8715 to talk to our experts!