Why do you buy customized lobby logo wall signs for offices in Los Angeles? You understand that they are an opportunity to present your brand message. However, is there something else at play? There is!
Success Story: AOCUSA/Amalie Lobby Signs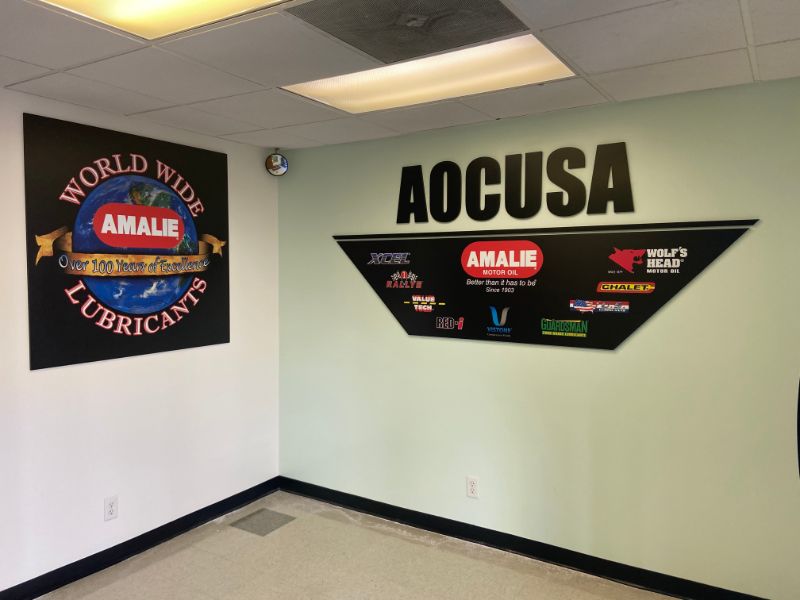 Recently, Superior Signs and Graphics assisted AOCUSA/Amalie with designing, producing, and installing new signs and graphics for rebranding. These focused on the exterior. They included updated cabinet sign facings, building panels, and wayfinding signs.
Next, we returned to the main office in Pico Rivera to install two large lobby signs. These consist of half-inch-thick acrylic boards that our technicians painted black, which is the company's brand color. The shapes feature a rectangle and trapezoid. Matte printed overlays showcase the colorful insignia of various brand components.
We mounted the signage flush to the wall with studs. Because the space is small, these larger sizes have a tremendous impact.
What is Signage Impact?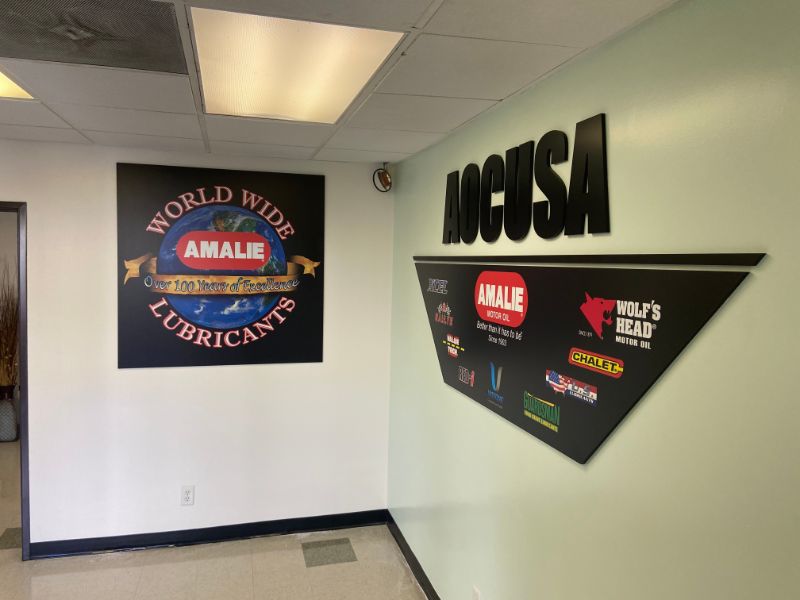 Why did the client choose a size display that would have a notable impact on visitors to the reception area? It has nothing to do with the opinion that bigger is better. Instead, there were several discussions behind the sizing of the signs that focused on the color combination of black substrates and individual brand features.
Impact, here, refers to the action the sign inspires the customer to take. For AOCUSA/Amalie, the display was a direct invitation to explore the various brands that this firm represents. For some consumers, this may be a first-time introduction to a product they did not know.
However, you do not have to limit your signage impact on brand introductions. Wayfinding with a purpose is another option. Interior signs may feature a variety of wayfinding elements. You might use them to guide customers to your shelves with special offers or to the sales offices of your top representatives. While the signage itself assists with venue navigation, it also serves the purpose of driving sales.
Another impact you want your signs to have is the development of confidence in the brand. With the help of targeted and straightforward calls to action, you can highlight the way your customer interacts with the brand. This might not always be a "buy me' message. It may also be a "join me," "ask more questions," or "explore new products" message.
By the way, some steps to take for creating impact can be as simple as opting for a slightly oversized sign to dominate a room. You might also capitalize on the great looks of three-dimensional products by selecting sign foam for a three-inch-thick display that – with proper lighting – can become an excellent focal point for even a large space.
Are You Looking for Hard-Hitting Lobby Logo Wall Signs for Offices in Los Angeles?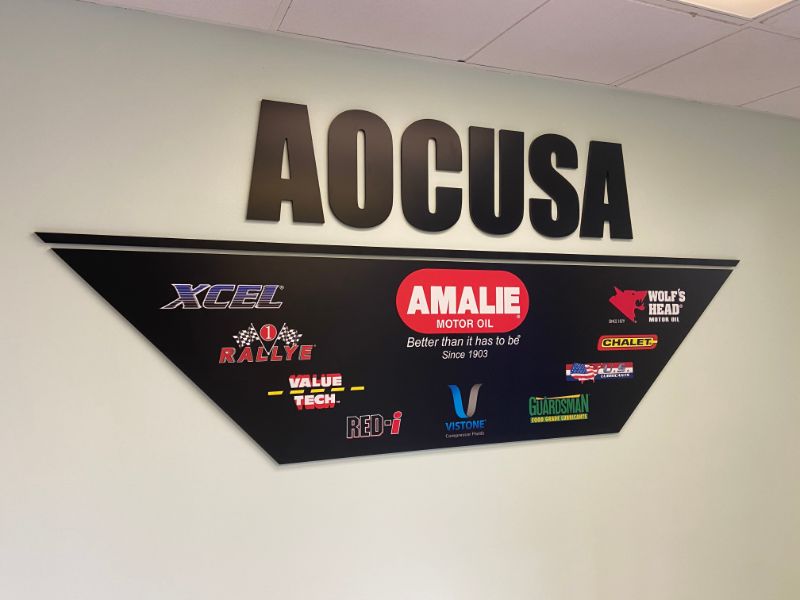 Superior Signs and Graphics wants to help. Our technicians understand that the combination of color wheels, font displays, material selections, and lettering choices can be a tall order for the first-time sign buyer. However, remember that we deal with these products all the time.
Moreover, we can assist with developing a signage presentation that incorporates your message and stays within budget. We serve the business communities in and around the counties of Los Angeles and Orange. Call us today!