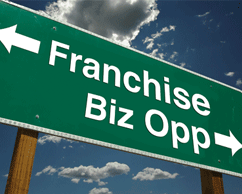 Deciding to start your own business is one of the biggest decisions when choosing your "path" in life.  Once you have decided to start a business, the next decision is how you are going to start your new venture, will you start it from scratch or will you choose one of the many great franchise or business opportunities.  Should you decide that you want to join an organization that provides assistance, we have to look at the differences between a franchise and a business opportunity.  Looking at some of the biggest differences will help you choose the right "path" for your family.
Both have a start-up package, a proven business model, training and on-going support.  A business opportunity charges an upfront fee that is comparable to an upfront franchise fee.  There are NO on-going fees charged by a business opportunity.  However, a franchise charges an on-going monthly royalty.  Also, a business opportunity does not have the huge expenses of attorney's fees, accounts receivable people to collect royalties, and regional directors to maintain the core brand identity.  Attorneys, collection people and regional support are one of the biggest ongoing expenses to a franchisor.
More importantly, a business opportunity does not have any rules.  A franchise has all kinds of rules and reporting requirements.  The quality of on-going support will vary widely.  Whereas our on-going support is tremendous and is supported not only from the corporate staff, but also the family of 260 other Signworld owners.  Business opportunities are geared more for experienced business people who want to do things their own way but still have an organization to lean on for support.
Contact us to learn more about Signworld's business opportunity and how you can start your very own sign manufacturing company!