Lobby signs bring elegance, pizzazz, and style to your office space. At the same time, these products are at the forefront of beginning or continuing a brand conversation with the consumer. Why not enlist our assistance to get fantastic brushed metal lobby logo signs in Orange County?
We Do Not Outsource Fabrication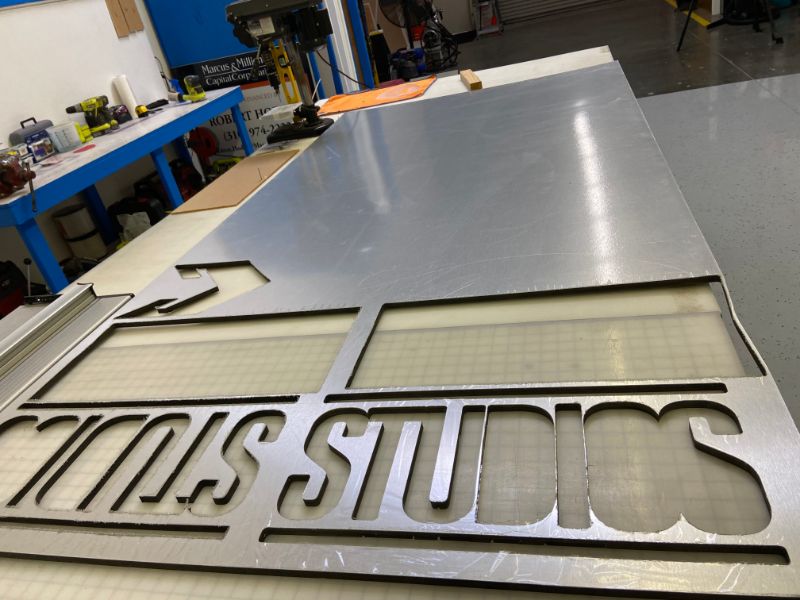 Therefore, we can work with your turnaround times. Most importantly, you do not have to deal with third-party vendors. When you collaborate with Superior Signs and Graphics, our specialists see your project through from inception to final installation. A case in point is the fabrication of the sign.
Plenty of sign shops might take on your order, but they then outsource the fabrication of the product. Because our sign shop has invested in CNC router technology, we can directly work with clients who want brushed metal lobby signs for their offices.
Exploring the Possibilities of CNC Router Technology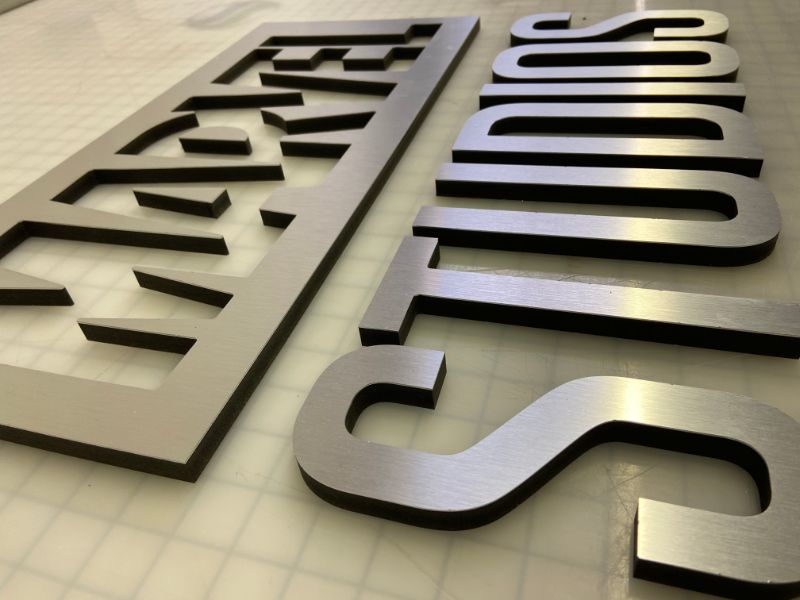 Brushed metal is a stylish option that adequately expresses your brand message. Not surprisingly, it is a favorite of service providers as well as high-end retailers. Because it allows for the use of a broad range of substrates, you can take advantage of the different presentations that this type of signage would bring to your location.
For example, our technicians can add brushed aluminum as a laminated facing on Gator foam, PVC, or acrylic. Besides that, we can also fabricate your style elements using solid aluminum with a quarter-inch thickness that then presents with the brushed finish.
Just recently, we worked with half-inch-thick black PVC, which we receive with a pre-laminated face. This pressure laminate allows for the most defined edges. By cutting the product as one piece with our CNC router, it is possible to benefit from the material's makeup.
Look closely at the pictures, and you will notice style elements that are black through and through. The paint is part of the PVC's appeal, and it cannot be scratched off. Additionally, it presents an entirely consistent color play. Because we do not have to paint the material, we can turn around this type of product even more quickly.
As an aside, the black color with the brushed silver facing creates an attractive visual presentation that contrasts well with virtually any wall color. The black sides of the style elements boost the perception of depth that this type of sign brings to walls with lighter colors. Similarly, the brushed metal facing creates visually stunning contrasts with darker wall colors.
Ordering Your Brushed Metal Lobby Logo Signs in Orange County CA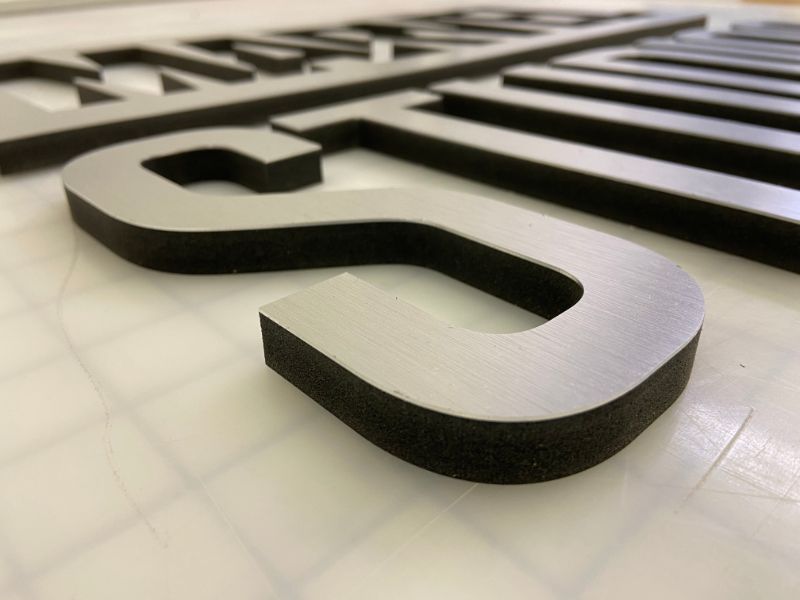 If we have piqued your interest in what brushed metal would look like at your location, discuss your thoughts with our graphic artist. This specialist assists our clients with visualizing their products before they commit to the purchase. At the same time, it gives you an excellent idea of how this type of sign would fit in with your brand message.
Best of all, we can work with the black PVC, if you like this look, or custom-paint the material to match your brand tones. Contact us today to schedule a design appointment!