Our shop has been assisting the Monrovia High School with a variety of projects. There were the wall graphics for the weight room and the addition of lettering and mascot details. This time around, we worked with the school's football coach to design, produce, and install exterior wall wraps in L.A. County.
Atrium Area Gets a Makeover with School Spirit Wall Wraps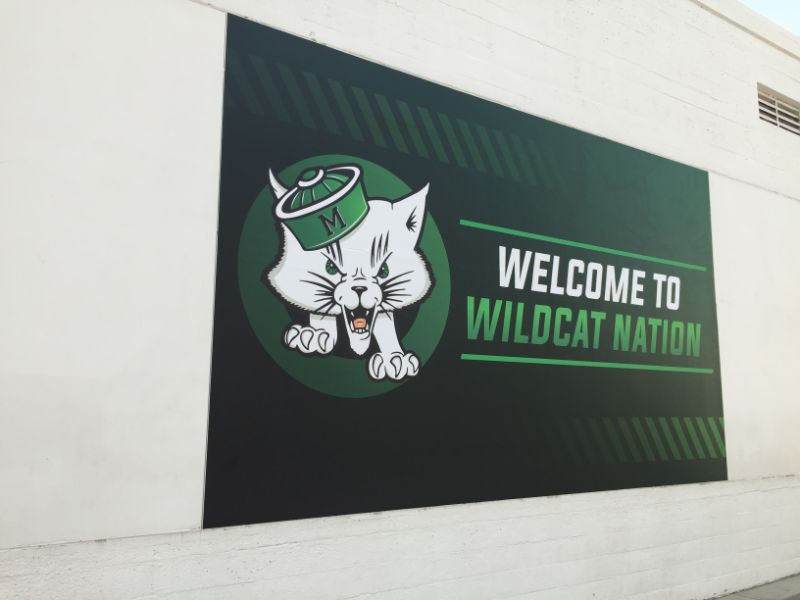 Themed wall murals for schools are excellent tools for building team spirit among athletes. When the coach approached us to design a wall wrap for the area where fans walk through to get to the stadium and gym, our technicians began with a wall surface test.
It alerted us that we would need high-tack 3M flat surface vinyl that would adhere to the exterior surface the best. We imprinted this material with the school's colors, mascot, and a welcome message. It now attaches to the wall perfectly and will be an asset to the school's sports program.
Because of the high quality that the vinyl brings to the project, it is easy to clean up and remain looking great come sunshine or rain.
Wall Wraps are not Just for High School Athletes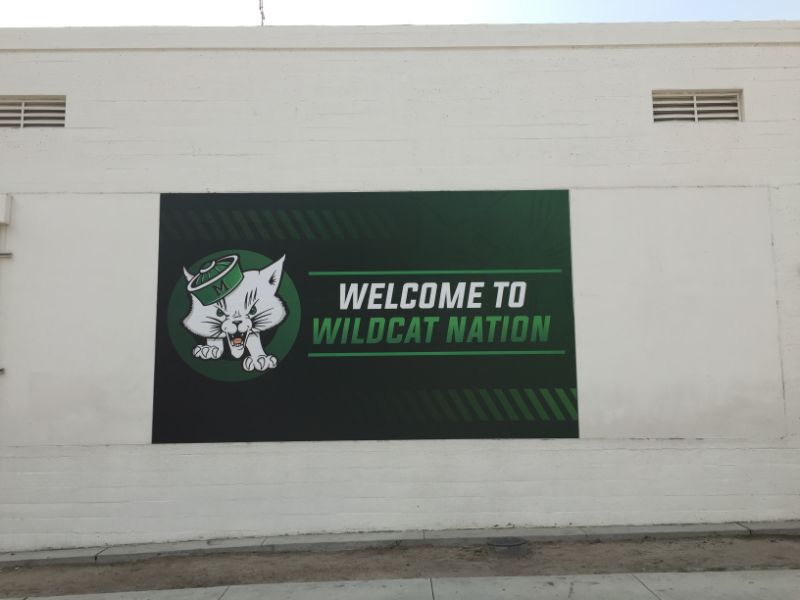 It is tempting to look at wall graphics as a way to inspire high schoolers only. However, these products have long been used in the retail and office environment for a host of purposes.
Brand building. Whether you operate a store or an office, you want the customer to remember you. One of the most critical aspects in this situation is the use of colors and symbols. After all, you need your customers to recognize you at a glance. Wall graphics that feature your logo in its unique colors is an excellent option for any setting.
Name recognition. Another goal for the installation of wall wraps is the development of name recognition. In this scenario, we focus our attention on using your lettering and font with the addition of your logo. Consider installing this type of wrap on a focal wall in your office. Many clients have had excellent success with custom wallpaper that features their logos as subliminal images.
Product knowledge. Maybe you would like to introduce a new product line to the shopper. Wall graphics let you feature these items and underscore how they could be precisely what the buyer is looking for.
Superior Signs and Graphics Can Help You Buy Interior and Exterior Wall Wraps in Los Angeles County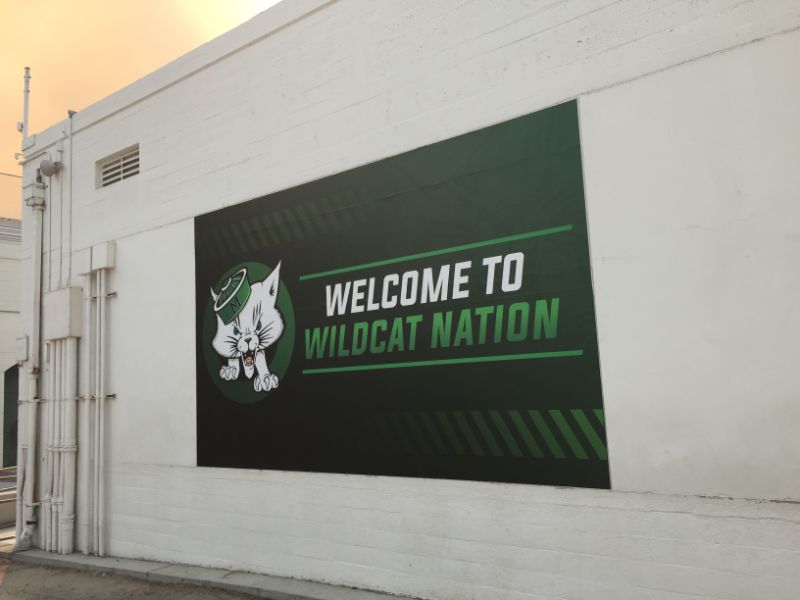 We routinely work with schools, retailers, service providers, municipalities, and others. Moreover, we serve residential as well as commercial clients. If you have a room in your home that could benefit from an interior wrap, we can help. Similarly, we can treat an exterior garden wall that so far only brings cinder block gray to your landscape.
Business clients like the idea of treating facades with wraps. They add immediate visual interest and can serve as brand-building tools. Besides that, they also look neat and are easy to keep clean. For schools, the wall wraps are indispensable because they treat large wall surfaces virtually overnight. Learn more about your options today by contacting our shop now!